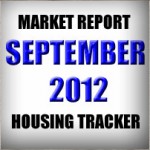 Our Metro Phoenix Housing Tracker reports each month on Real Estate Market Conditions and on the state of Phoenix foreclosures.
Residential home sales  for the Metro Phoenix / Mesa / Scottsdale real estate market were down (15%) to 6,464 from August to September 2012 and 20% year over year from September 2011 (see Phoenix Home Sales | Housing Tracker).
Metro Phoenix foreclosure sales (which we define as bank owned homes and short sales) accounted for 39.5% of all home sales and are at their lowest percentage since June 2008 . Of that 39.5% only 33.2% of Phoenix foreclosures were bank owned homes (also known as REO's) while 66.8% were short sales (see Bank Home Foreclosures VS  Short Sales).
Here are those Real Estate Market Conditions stats in an easy to read format:
848 = REO sales (13.1%)
1,708 = short sales (26.4%)
3,908 = normal sales (60.5%)
6,464 = total sales
Likewise, our Phoenix Housing Tracker reports that, at 60.5%,  normal sales are at their highest percentage since June 2008.
Another notable number to end September is the increase in home prices from $98 to $101 per square foot. Home prices reached over $100 in May for the first time since December 2008 but dropped to $99 and $98 in the following months (see Phoenix Housing Tracker Price Per square Foot). The increase in prices continues to be a direct result of a drastic drop in Phoenix foreclosures.
As noted in a previous post (see Phoenix Housing Tracker and Trends) we can usually predict whether home prices will trend up or down over the next 1-2 months based on the "pending sales" prices from the previous 6-8 weeks. That index (seen below) indicates we can expect home prices to trend upward in October and November.
It needs to be noted that active inventory increased for the 4th consecutive month, as seen in our Phoenix Housing Tracker:
Oct 1st - 15,723
Sep 1st - 14,428
Aug 1st - 13,434
Jul 1st - 12,962
Jun 1st - 12,585
The total gain is 3,138 active listings in the Arizona Regional MLS after we saw residential home listings drop an amazing -26,724 from October 2010 until June 2012 (see Phoenix Real Estate Listings by Month).
So there you have it for our Phoenix Housing Tracker and Real Estate Market Conditions Report for September 2012: listings, total home sales, and Phoenix foreclosures have dropped while normal sales and homes prices increased. We expect home prices to increase in the short term.