Housing Market Phoenix  -- Phoenix Housing Inventory
Housing prices, on a price per square foot basis, have continued to increase in the Housing Market Phoenix influencing more home owners to put their homes on Phoenix MLS. The contrast from last November, as reported in our Phoenix Housing Inventory Report, is an remarkable $22 per square foot (review trends on the Phoenix Housing Inventory here: Price per Square Foot Phoenix Area MLS). Home sellers are optimistic, especially for families who are hoping to sell their property quickly. That involves those with investment property in Phoenix who are looking to
cash out the market with a nice little yield.
Yearly appreciation is still in the 26% to 28% scale in spite of last year's figures giving us a much stronger comparison. Prices were in a robust upward movement in November and December 2011.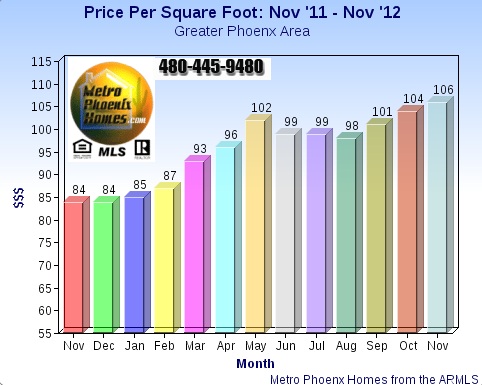 In preceding posts regarding the Phoenix Housing Inventory we shared that home sale pricing is tied very directly to the price per square foot of "pending sales" (see the report here: Phoenix Housing Inventory). Consequently, home prices in the Housing Market Phoenix will carry on higher in December 2012. Looking into 2013 it's difficult to predict because of the uncertainty of the country as we pass the time to see if we will jump off or avoid the "fiscal cliff."  The Housing Market Phoenix and the housing market in the rest of the country will be prejudiced by how well or badly the stock market and economy reacts to the fiscal cliff state of affairs. Public reaction may move severely lower or higher depending on the conclusion. Here is some insight on the Housing Market Phoenix As reported by Michael Orr of the Cromford report:
"The advance in pricing is strong, but is accompanied by a rise in supply and a weakening in demand. Both of these are working together to lessen the upward pricing pressure. That pressure still exists for the market as a whole but each month that goes by is releasing some of that pressure. This means we stand a reasonable chance of going back to a normal balanced, overall market with fairly stable pricing in the not too distant future. The speed will depend on how sentiment develops."
The below chart indicates Phoenix Housing Inventory and demonstrates how listings have been progressively increasing. Yet foreclosures continue to drop. The number of Notices of Trustee Sale recorded in November was 2,231 of which 2,094 were residential. This is the lowest monthly total since May 2007. The number of Trustee Deeds recorded in November was 1,672 of which 1,569 were residential. This is the lowest monthly total since December 2007.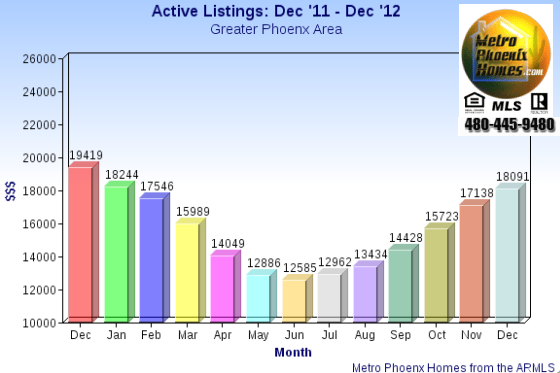 Higher prices will definitely convince more owners to sell their homes in the Housing Market Phoenix, particularly homeowners who now have equity. Some investors may want to sell their homes quickly in Phoenix because of uncertainty about having to pay higher taxes on profits in 2013, as opposed to 2012. If you are one of those investors, contact us quickly as time is running out. Want more detailed information on the active listing trends in Phoenix: Phoenix MLS Listings Report
Housing Market Phoenix  -- Phoenix Housing Inventory