Phoenix foreclosures no longer have the same presence that created bad memories about the Phoenix housing market. In fact, and according to Realty Trac, Phoenix is now the 8th worst city in which to buy foreclosures.
This article follows one I wrote yesterday about how Phoenix foreclosures are no longer the driving force in the Phoenix housing market. Additionally, and according to Realty Trac,  foreclosure activity is down in 12 of the 20 largest metropolitan areas and up in eight of the 20 largest metros.
From Realty Trac:

To select the best and worst places to buy foreclosures in 2013, RealtyTrac scored all metro areas with a population of 500,000 or more by summing up four numbers: months' supply of foreclosure inventory, percentage of foreclosure sales, foreclosure discount, and percentage increase in foreclosure activity in 2012.
Data is collected from more than 2,200 counties nationwide, and those counties account for more than 90 percent of the U.S. population. RealtyTrac's report incorporates documents filed in all three phases of foreclosure: [1.] Default — Notice of Default (NOD) and Lis Pendens (LIS); [2.] Auction — Notice of Trustee Sale and Notice of Foreclosure Sale (NTS and NFS); and [3.] Real Estate Owned, or REO properties (that have been foreclosed on and repurchased by a bank). For the quarterly report, if more than one foreclosure document is received for a property during the quarter, only the most recent filing is counted in the report.
Whether or not you agree with their methodology the report is certainly interesting. As a realtor who is also a real estate investor I find this information to be very useful. Just this morning Kristina and I were discussing the state of Phoenix foreclosures and the Phoenix housing market and decided we should look at a few other areas across the country. Like it says in the Bible: "Ask and ye shall receive!"
COURTESY OF REALTY TRAC, here are the top 20 BEST cities in which to buy foreclosures: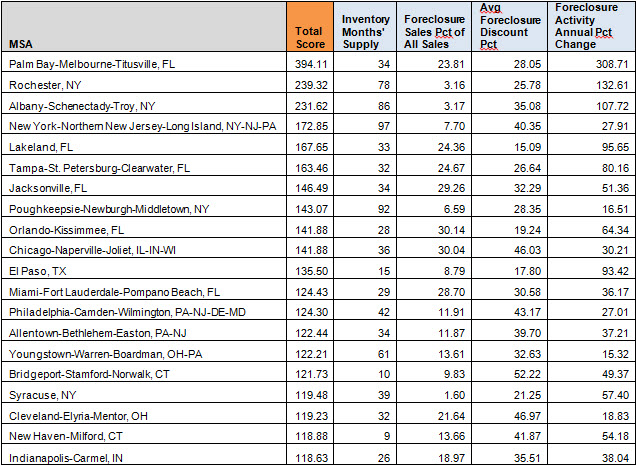 COURTESY OF REALTY TRAC, here are the top 20 WORST cities in which to buy foreclosures: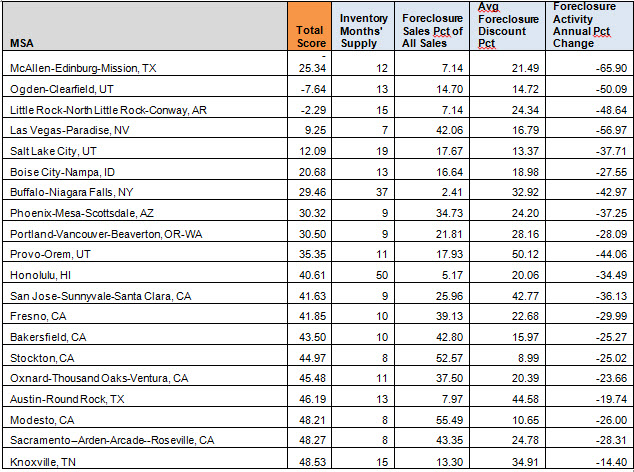 See the full article:  http://www.realtytrac.com/content/foreclosure-market-report/2012-metro-foreclosure-report-7575
Phoenix Foreclosures and the Phoenix Housing Market
We have been tracking market statistics for over 5 years. To get a larger perspective of Phoenix foreclosures and the percentage of bank owned sales versus short sales visit this page: Bank Home Foreclosures and Short Sales